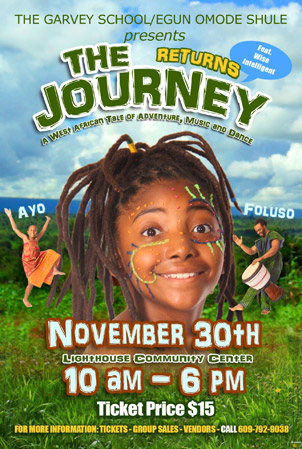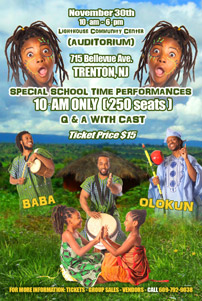 IT'S HERE. THE GARVEY SCHOOL/EGUN OMODE SHULE'S 2012 PRODUCTION ENTITLED "THE JOURNEY", STARRING AKOSUA SQUARRELL-R. AS ORUNMILA. DO NOT MISS THIS 90 MINUTE EXPERIENCE OF ADVENTURE, MUSIC, AFRICAN DANCE & DRUM, CAPOEIRA-ANGOLA MARTIAL ARTS, SABAR DRUMMING AND MUCH MORE. FEATURING FOLUSO MIMY ON DJEMBE, WISE INTELLIGENT ON THE M-I-C, STORYTELLER QUEEN NUR AND THE WATOTO (CHILDREN) OF THE GARVEY SCHOOL/EGUN OMODE SHULE.
"THE JOURNEY": A WEST AFRICAN (YORUBA) TALE OF ORUNMILA TRAVELING BACK HOME AFTER 2 YEARS OF LEARNING THE SECRETS OF LONG LIFE AND ENDURING PROSPERITY HER FRIEND, OLOKUN. ORUNMILA ENCOUNTERS WISDOM FROM THE WISE GATEKEEPER AND DISCOVERS AFRICAN DANCE/DRUM, CAPOEIRA-ANGOLA AND ADVENTURE ALONG THE PATH HOME.
IF YOU MISSED THE PLAY, YOU CAN PURCHASE IT RIGHT HERE.
$3 for shipping and handling per item.
FOR MORE INFORMATION ABOUT TICKET SALES, GROUP SALES AND VENDING, CONTACT BAYE KEMIT @ (609) 792- 9038.
Download the flyer - click here
THIS PLAY IS A MUST SEE!!!
EGUN OMODE (CHILDREN OF THE ANCESTORS) IS TRENTON, NJ'S OWN WEST AFRICAN DANCE/DRUM, YORUBA FOLKLORE AND PERFORMING ARTS CHILDREN COMPANY. LED BY DANCE AFRICA'S RESIDENT DRUMMER, FOLUSO MIMY, EGUN OMODE PROVIDES THE AUTHENTIC SOUND OF THE DJEMBE ORCHESTRA, YET OUR MUSICAL RANGE EXTENDS BEYOND MALI/GUINEA/IVORY COAST RHYTHMS. WE INCORPORATE SABAR DRUMS FROM SENEGAMBIA, CAPOEIRA-ANGOLA MARTIAL ARTS FROM ANGOLA/BRAZIL AND THE DUNDUN (TALKING DRUM) FROM NIGERIA. OUR GROUP IS JOINED BY NATIONALLY KNOWN STORYTELLING, QUEEN NUR, AND THE LEGENDARY HIP-HOP ARTIST WISE INTELLIGENT (POOR RIGHTEOUS TEACHERS). MAKEDA KEMIT, AS THE MAMA OF DRAMA OR ARTISTIC DIRECTOR, HAS BEEN WEST AFRICAN DANCING SINCE THE AGE OF 3. BY THE AGE OF 10, MAKEDA HAD TRAVELED TO SENEGAL AS A MEMBER MAIMOUNA KEITA, UNDER THE DIRECTION OF INTERNATIONALLY KNOWN MASTER TEACHER MARIE BASS-WILES. AS AFRICAN-CENTERED EDUCATORS, EGUN OMODE BRINGS THE AUTHENTICITY AND EXCITEMENT OF WEST AFRICAN CULTURE AND TRADITION TO THE STAGE.